Pedi Pistol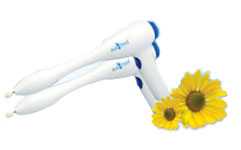 The same company that brought you the amazing PedEgg now brings you the Pedi Pistol.
The Pedi Pistol is a revolutionary home pedicure system with an extra long arm and five precision crafted heads. They allow you to easily reach your toe nail without bending over or straining your back.
Now you can receive a salon quality pedicure from the comforts of your own home and without having to bend or strain yourself. It is the ultimate way to smooth and beautiful feet.
The Pedi Pistol is also motorized, so it does all the work for you. It is great for removing callouses and filing your toe nails. It can even do your cuticles and polish your nails.
The five five precision heads used with the Pedi Pistol are designed to give you a great pedicure. They include a Emory Head, a Diamond Cone, a Felt Cone Head, a Satin Bristle Brush, and a Shaping Cone.
Get the Flash Player to see this player.
Similar quality home pedicure systems can costs over a hundred dollars but you can purchase a Pedi Pistol for just $19.99 plus shipping and handling.But that's all. Right now when your order a Pedi Pistol, you'll also receive a second for free.