Sure Clip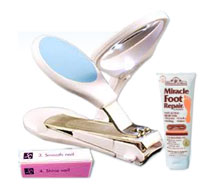 Sure Clip is the world's most advanced nail clipper. It magnifies, clips, and files to give you perfect nails.
The stainless steel blades of the Sure Clip will give a clean and precise cut every single time.
You won't have to worry about your nail clipper slipping or tearing your nails anymore.
The wide non-slip comfort grip gives you complete control. Along with the powerful 3X magnifier light, you can easily see where you are cutting.
Plus the Sure Clip has built-in nail catcher so there's no more flying clippings. There is also a built-in diamond-edge file for quick touch ups.
Get the Flash Player to see this player.
For just $10 plus shipping and handling you get the Sure Clip plus a 4-in-1 Miracle Nail Buffer and a tube of Miracle Foot Repair Cream.
The Miracle Nail Buffer will give your nails a perfect shine every time while the Miracle Foot Repair Cream helps repair dry and cracked feet.
But wait, it gets even better with this current buy 1 get 1 free offer. This means you will get an additional set of Sure Clip, 4-in-1 Miracle Nail Buffer, and  Miracle Foot Repair Cream free. You just have to pay the additional shipping cost.