Miracle Heel Stick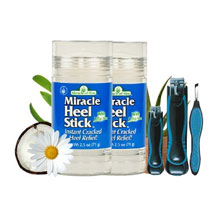 The Miracle Heel Stick is the miracle solution for dry, cracked skin on the heels, elbows and other trouble areas.
The soothing and moisturizing formula is specially made to repair and restore the skin so if is softer, smoother and more supple.
Miracle Heel Stick is made with all natural ingredients, including organic aloe vera, nutrients and anti-bacterial oils. It is gentle and effective so you can say goodbye to harsh creams and lotions.
The Mircale Heel Stick  glides on easily, has a clean refreshing aroma, and is gentle enough to use several times daily. It is different from many other products on the market because of the quality ingredients used.
Other lotions and creams only sit on the skin but the Miracle Heel Stick ingredients allows it to absorb deep into the skin to treat the problem at the root. It will leave your skin feeling silky smooth in just a matter of days.
Get the Flash Player to see this player.
Normally a single Miracle Heel Stick is $9.99 plus shipping and handling but currently there is a buy 1 get 1 free offer. You'll get a second Miracle Heel Stick free by paying the extra shipping cost.
But there's more. You'll also get a free 3 piece EZ Gripper Clipper Set with your order. This manicure set features a handles are ergonomically designed with a rubberized grip for maximum comfort and ease of use.