Aqua Globe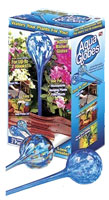 Aqua Globes are an attractive solution for automatic houseplant watering. You simply fill the hand blown stained glass globes with water and it would take care of the watering for you.
Aqua Globes are a great alternative to the daily chore of watering plants and an excellent choice for automatic watering while on vacation.
The product works by using the power of Oxygen. Oxygen goes into the Aqua Globes when the plant becomes dry and therefore causes the Aqua Globe to release the needed amount of water.
Household plants are automatically watered for up to two weeks with Aqua Globe. It works with booth indoor and outdoor potted plants.
Get the Flash Player to see this player.
With the special offer of Aqua Globe, you can get a set of 4 Aqua Globes for only $14.95 plus $7.95 for shipping and handling. The product comes with a 30-day money back guarantee.