Snap 2-0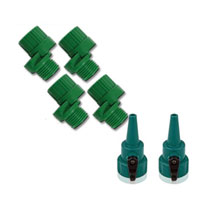 The Snap 2-0 is a revolutionary new garden hose connector that makes connecting and disconnecting hoses a snap. It lets you slide and connect your garden hoses and then slide it off  just as easily.
You won't have to waste time screwing on hoses or other watering tools to rusty and leaky water spouts anymore. Just attach the Snap 2-0 connector and connecting hoses is now a snap.
There are no buttons or rings to push and the Snap 2-0 is self locking. When connected it is securely locked into place and will stay securely no matter the water pressure and how hard you tug at it.
To setup the Snap 2-0 you first attach one end of the connectors to your faucet spout and the other end of the gardening hose or watering tool. It works with almost all watering fixtures and hose attachments.
With the two connectors attached you can now just slide your hose onto the spout and it will be securely locked together and ready to use. Plus the Snap 2-0 is designed to prevent leaks and drips from occurring at the connection points.
The Snap 2-0 also works great for garden feeders, window cleaners, spray nozzles or connecting two hoses together. You can quickly disconnect your watering tools and store them in your garage or shed without having to twist and twist until your hands become tired.
Get the Flash Player to see this player.
A single Snap 2-0 kit comes with 2 Snap 2-0 Connectors and a Water Pressure Nozzle that lets you control the water flow. It normally sells for $10 plus shipping and handling.
But currently you can take advantage of a buy 1 get 1 free offer and get a second Snap 2-0 set for free by paying the additional shipping and handling. That's a total of 4 Snap 2-0 Connectors and 2 Water Pressure Nozzles.