Rainbow Peppers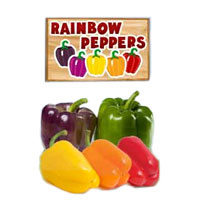 With the amazing Rainbow Peppers you can grow 5 different colored bell peppers from just a single plant.
These plants go through 5 different stages where the bell peppers changes color. It starts from black to violet, yellow, orange, and finally red.
You can enjoy Rainbow Peppers at any stage and experience all the incredible sweet tastes of all the individual flavors.
Each plant can grow up to 30 peppers each at only pennies a piece. Use them to make colorful and delicious meals.
They are great for rainbow stuffed peppers, colorful sandwiches, sweet tasting vegetable omelets, for stir frying and much more.
Get the Flash Player to see this player.
You can get 3 Rainbow Bell Peppers in professional starter packs for only $10 plus the cost of shipping and handling. But there's more.
As a bonus you'll also get 3 Big Berta Pepper Plants free with your order. They grow up to 10 inches in just 70 days and are great for fresh green salads, stuffing, and more. You just have to pay the extra shipping for it.