Sweet Dream Blackberries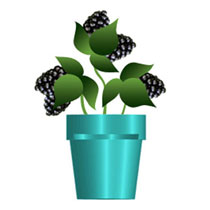 With the Sweet Dream Blackberries plant you'll be able to grow your own tasty blackberries right in your backyard. It is like having your very own blackberry farm at home
You can grow the blackberries of you dreams in your backyard for just pennies a pint. So now you won't have to buy blackberries from the market anymore, which are often iexpensive.
Plus the Sweet Dream Blackberry Plants doesn't just grow regular blackberries. They produce jumbo sized blackberries which are as sweet as nectar.
The Sweet Dream Blackberry Plants arrives ready to plant and grows fast. You can harvest as much as 4 pints of berries day and up to 20 bowls full each week from just a single plant.
Each plant can produce up to 5,000 tasty and sweet jumbo sized blackberries. They provide a bountiful harvest all year long so you and your family can have fresh blackberries whenever you want.
Blackberries are great for a quick snack, mixed with cereal, to make jams with, or in muffins. Plus not only are they delicious, they are also good for you.
Studies show that blackberries contains higher levels of antioxidants than most other fruits. They also bursting with a variety of vitamins and extraordinarily high in fiber too.
Get the Flash Player to see this player.
A set of two Sweet Dream Blackberry Plants normally sells for $10 plus the cost of shipping and handling. But currently there's a buy 2 plants get 1 free offer which is available.
You'll receive a third Sweet Dream Blackberry Plant for free with your order. All you have to do is pay for the extra shipping and handling  of the free plant.