Callous Clear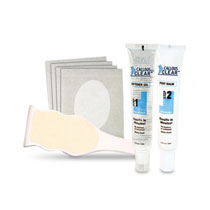 If you have calluses and dried out heels then Callous Clear can help. It is a spa treatment that you can use at home to soften up and remove calluses.
Callous Clear is fast and simple to use. With one or two treatments you can  get rid of callouses and make your feet feel soft and smooth again.
The secret behind Callous Clear is the special softening gel which can penetrate into hard callouses to soften up and loosen them. Afterwards you can gently file them off to reveal baby soft skin.
To use Callous Clear you first apply the Softener Gel to a Self-Sticking Callous Removal Patch. Next stick the patch to the calloused area of your feet.
Then just relax for a few minutes while the Softener Gel softening and lifts your calluses. Afterwards remove the patch and use the Finishing File to gently file away the calluses. Apply some of the Foot Balm when your finished and you'll have soft and smooth feet again.
With Callous Clear, getting rid of calluses for spa perfect feet at home has never been easier. It a lot more  more affordable than professional spa treatments while delivering effective results.
Get the Flash Player to see this player.
The Callus Clear Kit comes with a tube of Softener Gel, a tube to Foot Balm, 4 Callous Removal Patches, and a Finishing Scraper/File. You can order Callous Clear for $10 plus the cost of shipping and handling.
Currently though there's a buy 1 get 1 free offer. When you order a Callous Clear Kit you'll receive a second kit for free. You just have to pay the additional shipping and handling cost.