RelaxoBak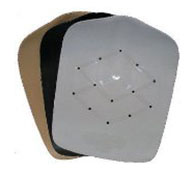 Relief from back discomfort is here with the RelaxoBak Orthopedic Seat. This device fits onto any seat and eliminates back pain or tailbone pain while sitting down.
The design of the RelaxoBak eliminates the pressure from the base of the spine while seating in order to get rid of the pain.
The RelaxoBak comfort seat is prescribe by over 3,200 medical clinics worldwide and now has over 1 million satisfied users.
The unique contour curve of the RelaxoBak made to protect the spinal column is patented and can't be found in other products.
Plus with it's portable and light-weight construction, you can take with you anywhere.
Get the Flash Player to see this player.
The RelaxoBak back retails for $19.99 plus shipping and handling but right now there is a special buy 1 get 1 free offer.
When you purchase one RelaxoBak seat you'll get a second one free. You'll just have to pay the additional shipping cost. Have one at home and one at the office.