Light Relief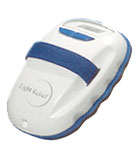 Light Relief is a pain relief device that emits energy in the infrared spectrum. It relieves pain and stiffness by penetrating deep into tissues, helping reduce muscle pain, joint pain, and stiffness.
Light Relief uses infrared light emitting diodes (LEDs) to direct a powerful stream of  a warm therapeutic light deep into tissues. This helps increase circulation around the target areas which relieves aches, pains and stiffness in muscles and joints.
Light Relief helps increases blood flow in sore tissues, letting you enjoy the freedom, comfort and flexibility you once had.
The benefits of using Light Relief includes:
Relieving muscle and joint pain, improves flexibility
Increasing blood flow to tissues
Safe, non-toxic and FDA-cleared
Get the Flash Player to see this player.
You can purchase Light Relief for just two payments of $39.95. This includes a free adjustable hand strap, free body band, free travel bag, and a free how to guide.
In addition as an extra bonus, you also receive a bottle of the Joint Support Fomula, a $39.96 value by itself, for free with your order.