BackJoy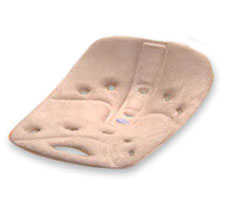 BackJoy is a revolutionary, easy-to-use, and completely portable sitting device that relieves back pain. It reduces the pressures and strains that make your back hurt better than other products on the market.
If your back hurts when you sit down, then you need BackJoy. This orthotic device really works and stops your back from hurting with its patent-pending design.
BackJoy works by correct your sitting posture, cups  your muscles to stop painful strains from sitting, and cradles your pelvis and floats your spinal system.
It is perfect for people who sit on the job, when commuting, for sporting events, and much more. The BackJoy works on any chair. 
There are no straps or buckles, so it is easy and convenient to use. Over 200,000 people have used BackJoy to overcome their back pain.
Get the Flash Player to see this player.
BackJoy retails for normally sells for 2 payments of $39.95 but right now you get one for only half the price with just a single payment of $39.95 plus shipping. You'll also receive a free travel satchel and a Stretch & Strengthen DVD along with your BackJoy Core.