Spinal Stretch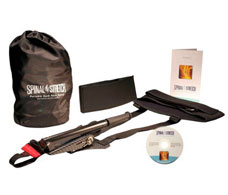 Spinal Stretch is the FDA registered device that can help relieve lower back pain. It uses a powerful and effective treatment known as spinal decompression.
Spinal decompression makes use of a therapeutic pulling force on the spine that will help relieve pressure on the spinal discs and vertebrae in order to reduce or even completely eliminate back pain.
Spinal Stretch is designed to address and treat some of the main causes of lower back pain. It is invented by Dr. David Starr and uses some of the latest advances in medical research.
With the Spinal Stretch, you get an easy to use, effective and affordable solution for back pain. You no longer have to rely on going to a chiropractor's office in order to get relief for back pain.
It can help treat back pain that is cause by degenerative disc disease, herniated disc, muscle spasms, sciatica, scoliosis, spinal stenosis and more.
Using the Spinal Stretch is extremely simple. All you need is a door and a floor that is comfortable to lie on, such as carpet, a rug, or a yoga mat. You just set up the  Spinal Stretch, lie back and let it  do the work for you.
A single treatment takes just 15 to 20 minutes. During that you can relax, read a book, listen to music or watch TV if you want. It can be done at home, while your are at work or traveling.
Get the Flash Player to see this player.
The Spinal Stretch system comes with the Spinal Stretch unit, Chest Belt, Tote Bag, User Guide and Instructional DVD. It sells for $99.95 plus the cost of shipping and handling.
The product comes with a 45-day money back guarantee. If you are unsatisfied with it, you can return it within the 45-day period for a complete refund.