OxyFlex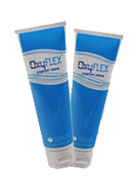 OxyFlex Comfort Cream provides pain relief that really works whether it is arthritis, tendinitis, backache, muscle and joint pain, and more.
It is the number 1 clinically proven natural remedy for arthritis and plantar fasciitis pain available anywhere.
OxyFlex is specially formulated hyper-oxygenated oil that increases blood flow naturally and reduces inflammation.
The unique, patented, and natural-acting process in OxyFlex is the result of over  22 years of clinical studies done by some of the most reputable research institutions in Europe and the United States.
OxyFlex is doctor recommended and is used by medical trainers, athletic trainers, and athletes around the globe.
Get the Flash Player to see this player.
Right now you can order a single tube of OxyFlex for just $24 plus shipping and handling. Or you can buy 2 tubes for $48 and get free shipping.
There is also a special buy 3 get 1 free offer where you can get a total of 4 tubes of OxyFlex for just $72 plus shipping and handling.