JumpSnap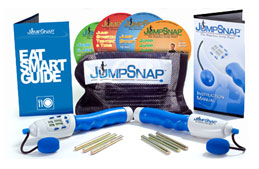 Jump off pounds in a snap with JumpSnap, the amazing ropeless jump rope system.
With the JumpSnap you will burn 3 times more calories compared to the boring treadmill.
This is because it uses more muscles which resutls in more calories being burned.
In just 5 minutes with the JumpSnap you can burn an amazing 100 calories. In addition to losing weight you will also be toning up your body.
Anyone can easily use the JumpSnap system. It requires minimal skill and coordination. The JumSnap also has a built in calorie counter allowing you to see how many calories you've burned.
The oomplete JumpSnap system includes:
2 Handles With Built-In Calorie Counting Computer
3 Interchangeable Weights For Each Handle
Four Easy To Follow Workouts Featuring Celebrity Trainer Sean Barth
A Mesh Carrying-Bag
The Eat Smart Guide
The Cheat & Eat Sheet – never feel guilty again
Free JumpSnap Yoga Mat
Free Lifetime Memberhship to JumpSnap Nation with 24/7 online support
Get the Flash Player to see this player.
The JumpSnap system normally retails for $59.95 but right now with this special offer, JumpSnap is yours for only $49.95 plus shipping and handling.