Shapely Secrets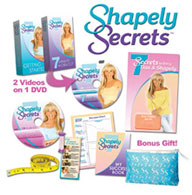 Discover the seven secrets to being thin and shapely with Shapely Secrets from Greer Childers, who has helped millions of women transform their bodies and lives over the past 20 years.
Shapely Secrets is a 7 minute a day program that uses Greer's revolutionary Diametric Resistance  techniques. It will help firm and shape your body fast.
This system will work for women of all ages and sizes whether you're 20 or 70, a size 8 or size 28.
Shapely Secrets is designed to deliver results quickly to allow you to live a normal life while slimming down.
You can loss up to 2 inches, 10 pounds, and 1 in just 14 days with Shapely Secrets.
Get the Flash Player to see this player.
The Shapely Secrets program comes with 2 video DVDs, Greer's motivational audio CDs, a full color program booklet, a sand timer and a measuring tape.
The program has a 30-day money back gurantee and just for trying the system you'll receive a free designer makeup bag and a pendant necklace.
Order Shapely Secrets now for only two easy payments of $21.49 plus shipping and handling.