Slim In 6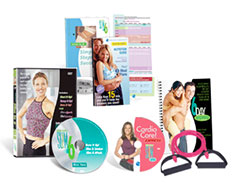 Reshape your body in just 6 weeks with Debbie Sibers' Slim In 6. It uses the science of Slim Training to deliver fast and effective results.
The Slim Training technique combines fat-burning cardio with light resistance moves. This help you slim and sculpt your body without bulking you up.
With Slim In 6 you will shrink your midsection and get slim, sexy thighs, hips, and arms in just 6 weeks.
Thousands of people have lost up to 25 pounds in just 6 weeks with this breakthrough system created by Debbie Sibers . Slim In 6 was created using all the knowledge Debbie gained in the personal training over her 20 years in the industry.
Slim in 6 contains 3 easy to follow workouts for amazing body-slimming results plus 2 bonus workouts:
Start It Up. Introduces you to the basic Slim Training moves for burning calories and reshaping your body.

Ramp It Up. Helps you burn more calories each day to accelerate your results.

Burn It Up. Takes slimming and toning to the next level to complete your body reshaping.

Slim & 6-Pack. Advanced abs routine for flat, sexy abs.
Slim & Limber.  Flexibility routine to revitalize you on your days off.
Get the Flash Player to see this player.
You can order the Slim In 6 system for just 3 easy payments of $19.95 plus shipping and handling. It comes with a 60-day money back guarantee. As a special bonus you'll also receive a set of support tools and free bonus gifts.
You'll get the "Simple Steps to Success" guidebook, a Step-by-Step Nutrition Guide, a Motivational calendar, a Tape measure, a 6-Day Express Diet Plan, the Cardio Core! Express DVD, and a Slim Training Band.