The World At War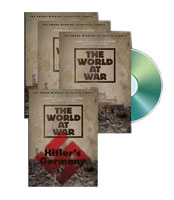 Time Life presents The World At War, one of the most powerful documentary ever made on World War II.
It is the ultimate visual history of World War II from North Africa to Stalingrad, D-Day, Iwo Jima, and Japan.
You'll experience hours of footage once deemed too shocking for the public eye. Plus there are unseen video collected from the archives of 18 nations.
With The World At War Collection you get to be there for every turning point of the War to End All Wars. You'll never look at World War II the same again.
Get the Flash Player to see this player.
The World At War normally retails for $59.99 plus shipping and handling but right now through this limited time offer it is only $39.99 .
As a special bonus you'll also receive an additional DVD, Hitler's Germany. Plus you also get free shipping and handling as well.