Shirley Temple DVD Collection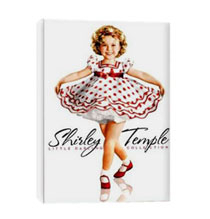 The Shirley Temple Little Darling DVD Collection is the most complete set of Shirley Temple films ever put together. You can enjoy hours of charming, classic family entertainment.
All the movies in the Little Darling Collection has been digitally remastered and fully restored in both black and white and color.
You can enjoy Shirley's adorable dimples and her sang, dance with your family and friends. See how she acted her way in the hearts of movie-goers' not only in the USA but across the world.
Shirley Temple is an original Hollywood icon and one of the most popular child stars in history. You bring the magic of Shirley Temple with the  Little Darling collection.
The DVD set includes a total of 18 Shirley Temple classics that were released between 1930 to 1940:
Bright Eyes
Curly Top
Heidi
The Little Rebel
Baby, Takes a Bow
The Blue Bird
Captain January
Dimples
Rebecca of Sunnybrook Farm
Stand Up and Cheer
Stowaway
Sasannah on the Mounties
Wee Willie Winkie
Young People
Just Around the Corner
The Little Colonel
The Little Princess
Little Miss Broadway
Get the Flash Player to see this player.
You can order the  Shirley Temple Little Darling Collection for 2 payments of $24.99 plus the cost of shipping and handling. Or you could simply make the entire payment of $49.98 plus shipping at once.