Crusade World War II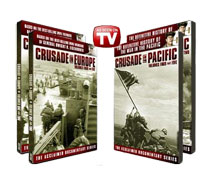 The Crusade World War II collection features some of the most extraordinary war footage that was ever caught on film. It contains footage available for the first time on DVD.
Each episode contains breath taking and bone chilling action in visual detail. They reveal the epic struggle for victory and details the crucial turning points of the war.
Crusade WWII is 4 DVD set with a total of 20 different episodes. There are 2 DVDs with 10 episodes from the Crusade in Europe 2 DVDs with 10 episodes from the Crusade in the Pacific.
With Crusade in Europe, you see the leaders, the field generals, and the front-line soldiers who carried out the battle plans in the trenches and in the skies over North Africa, Italy, France and Germany.
It vividly portrays every major aspect of the conflict in Europe and includes the best-selling memoirs of General Dwight D. Eisenhower's as the backdrop. This documentary is a winner of the  Emmy Award and Peabody Award.
Crusade in the Pacific is brings to life the land and sea battles of in the pacific during World War II. It starts from the bombing of Pearl Harbor to Guadalcanal and Iwo Jima. Plus it shows the rise of the Japanese Empire and its attempts to conquer the world.
In addition, Crusade in the Pacific also examines the different conflicts in the China, Korea and Vietnam regions prior the war and after the war.
Get the Flash Player to see this player.
You can order the 4 disc Crusade World War II collection for just $39.95 plus shipping and handling. As a bonus you'll also get the bonus Nazi: Raw and Rare Captured Enemy Film DVD for free.
It contains rare captured enemy footage, must of which is uncut and never issued to the public before. The Captured Enemy Film DVD is not available anywhere else.