The Bible Experience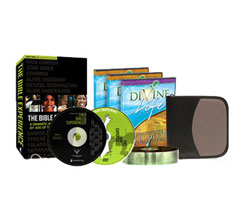 Experience the words of the Bible brought to life with The Bible Experience. It a fully dramatized reading of the complete New Testament by over 400 of today's biggest stars.
The unprecedented ensemble includes Academy Award-winning actors, Grammy-winning musicians and producers.
You will enjoy outstanding performances from Denzel Washington, Blair Underwood, Angela Basset, LL Cool J, Dr. Creflo Dollar, Juanita Bynum, Shirley Franklin and many more.
Over 400 celerbities came together for one to most ambitious undertakings ever for an audio Bible recording. They did so in order to help spread the word of God and provide a spiritual awakening for others.
The over 400 world-class talents came together to help record The Bible Experience through divine inspiration and the guidance of five influential Hollywood producers,
Their performances full of passion and intensity which is supported by a bold and cinematic original score that was produced by Grammy-winning producers and performed by the Prague Philharmonic Orchestra.
Get the Flash Player to see this player.
The Bible Experience includes the Bible Experience New Testament CDs on a total of  19 discs, the Speaking the Word of God Over Your Life Daily CD, a How to Study the Word Daily DVD , a How to Apply the Word of God DVD and Custom Carrying Case.
You can order The Bible Experience for 3 monthly payments of $19.99 plus shipping and handling. Or just make a single payment of $59.97 plus the cost of  shipping.
Update: This offer has expired