Pop Memories of the '60s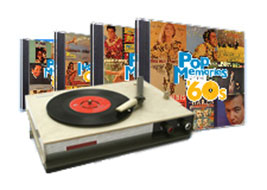 Time Life proudly presents the Pop Memories of the '60s music collection. It contains the best pop and easy listening hits that were well-known during the baby-boomer generation.
This is one of the most comprehensive collection of the best pop songs from the sixties ever offered. It includes classic vocals, love songs, folk songs and instrumentals.
With Pop Memories of the '60s you'll get all of the top hits featured on Billboard's "Easy Listening" charts during the 1960′s.
This comprehensive collection offers a wonderfully nostalgic experience for anyone who listened to Top 40 radio, and enjoyed the format's wide variety of styles. It has classics from Bobby Vinton, Ray Charles, Herb Alpert, The Kingston Trio, and much more.
Some of the featured songs and artists in this incredible 142 hits collection includes:
"Blue Velvet" by Bobby Vinton

"I Can't Stop Loving You" by Ray Charles

"This Guy's In Love With You" by Herb Alpert

"Moon River" from Henry Mancini

"Where Have All The Flowers Gone" by The Kingston Trio

"Hello Dolly" by Louis Armstrong
Get the Flash Player to see this player.
You can order the Pop Memories of the '60s collection for 5 easy payments of $29.99. As a special bonus you'll receive a bonus 18-track  CD with '60s instrumentals.
That is a total of 160 hits on 10 CDs, a great addition to the music library of any pop music fan. A collector's box is included to hold all your CDs. Act now and you'll also get free shipping.