Table Mate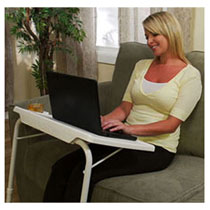 The Table Mate is the convenient, portable, and transformable table that slides right to you. It is one of the most comfortable portable tables ever.
The design is ideal for those who have limited space and mobility. Since it can be adjusted to 6 different heights and 3 different angles, it is like having over 12 different tables in 1.
Table Mate features a lightweight construction that is sturdy and can hold up to 50 lbs. Plus there's also a built in cupholder on the side which stays leveled no matter what angle you adjust the table.
The Table Mate works great as a laptop stand, portable desk, serving table, activity desk, and so much more. Use it for eating, reading, writing, drawing, and other activities.
The ingenious design of the Table Mate lets you sit back and slide it right towards your body. There's also a raised lip on the bottom to ensure nothing slides or falls off.
With it's space saving design, the Table Mate is ideal for small apartments, condos, dorms, and other places with limited space. When not in use, you can fold up the Table Mate flat.
Get the Flash Player to see this player.
The Table Mate retails for $29.95 plus the cost of shipping. Currently thought there's a buy 1 get 1 offer that is available.
You can receive a second Tablet Mate for free with your order. You just have to pay a separate shipping and handling for the second free Table Mate.