Steam Buddy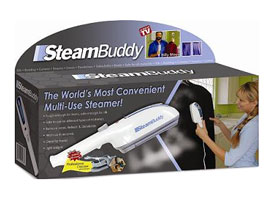 The Steam Buddy is the say and easy way to remove wrinkles without expensive dry cleaning bills. Irons can heavy and dangerous, but Steam Buddy is lightweight and can be easily handled.
It is gentle on fabrics and removes both wrinkles and foul odors. It can also work on drapes, table cloths, furniture and more.
Use it on all different types of materials safely. It is tough enough for linens but safe enough for silks.
The Steam Buddy heats up in just seconds and is ready for use. It instantly generates a controlled burst of steam to remove wrinkles quickly.
In addition, its small and light weight design makes it perfect for travel.
Get the Flash Player to see this player.
The Steam Buddy costs $19.95 and comes with a Water Dispenser and a Fabric Brush. When you order now you'll also receive a free Bonus Creaser, just pay additional shipping and handling.