Liftys Invisible Bra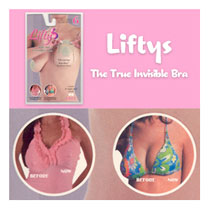 Lifty's Invisible Bra is an adhesive tape that instantly gives your breast a 90 degree lift for a new sexy and natural look.
No matter what you are wearing on the outside, you have that perky and sexy look with Lifty's.
The secret lies in the material used. It is specially designed to be hypoallergenic and won't irritate your skin in any way.
Lifty's is completely invisible and goes well with almost any outfit. Since there are no bra straps, they are perfect for  for halter tops, off shoulder blouses sexy dresses, bathing suits and bikinis.
To put on Liftys you just stick the bra pads on, they are coated with a special medical adhesive that stays on strong. You can pull them up as far as you want to get the lifted and firmer look you desire.
Get the Flash Player to see this player.
With this current offer you can get 6 pairs of Liftys plus 6 bonus pairs of Petal Nipple Covers for only $19.99 plus the cost of shipping and handling.
Update: This offer has expired