Genie Bra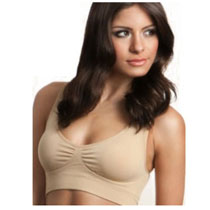 Now there's a perfect bra available for women everywhere with the Genia Bra. The special one piece design lets you easily put it on and eliminate the  hassles of getting any bra straps right under your outfit.
All you have to do is match your your bra size with your clothing size. The woven everlast technology in Genie Bra eliminates any rolling, wires,  or the need to adjust straps.
Plus it's also designed to reduce the appearance of back fat and there's no unsightly top bulging. The Genie is made to support, life, and separate perfectly for a beautiful appearance.
Women all sizes can use and benefit from the Genie Bra whether they are full figured or petite. It conforms to your body shape and makes you look your best.
Just put it on and it will gently stretch and conform to your shape. It is extremely comfort and isn't a tight constricting band. You can even sleep in it if you want.
The Genie Bra can also be used as a camisole as well. It'll give you that camisole look with adding an unattractive bulky layer.
Get the Flash Player to see this player.
The Genie Bra is available in 7 sizes and sold in a set of 3 colors. A single set includes a Nude, Black and White Genie Bra and costs $59.99 plus shipping and handling.
But through this current buy 3 get 3 free offer, you'll receive a second set of 3 additional Genie Bras for free. All you have to do is pay for the extra shipping and handling for the free set.