Ahh Bra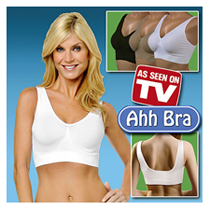 The original Ahh Bra from Ronda Shear is designed to provide you both comfort and great looks. Over 5 million have already been sold
What sets the Ahh Bra apart from other bras is it does away with hooks, straps and underwires which causes itching, poking,  prodding and scratching.
Instead the Ahh Bra uses a breakthrough body-form technology which provides a firm and lifting support while eliminating those unsightly rolls and bra lines forever.
The Ahh Bra piratically eliminates all the inconveniences that women have had with bras for years. You won't have to worry about it not fitting you anymore if you lost or gained some weight. This because the Ahh Bra is designed to expand and contract with you as your body size fluctuates to give you a good and comfortable fit every time.
With the Ahh Bra you also won't have to worry any back and underarm bulges sticking out. There are wide sides and a wide back in order to give a smooth appearance under any type of clothing.
Plus you also won't have to worry about slipping straps when wearing the Ahh Bra. It is made with ultra  wide comfort straps that are designed to prevent any slipping and sliding.
Unlike other bras, the Ahh Bra doesn't require any high maintenance when cleaning. It is machine washable and dryer safe. The knitted spandex and nylon blend fabric that the Ahh Bra is made of will keep its shape, form, and color over time.
Get the Flash Player to see this player.
The Ahh Bra comes in 7 different sizes with Extra Small, Small, Medium, Large, 2X and 3X. You simply choose your shirt or blouse size. There's no cup size to worry about because the Ahh Bra gently adjusts to fit you.
With this current online offer you can get a set of 3 Ahh Bras for just $59.99 plus shipping and handling. It includes a Black, Nude and White Ahh Bra. This special offer is not available in stores.