Comfortisse Bra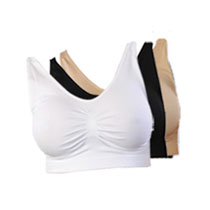 The Comfortisse Bra is one of the most comfortable bra that you'll ever wear. It provides a smooth, bulge-free fit that goes perfect with any outfit.
You won't have to worry about any pinching or chafing. Plus figuring out the right size is easy since you just choose your t-shirt size to get the right fit.
With the Comfortisse Bra, you get a flattering lift without any uncomfortable underwires that can poke or scratch you. You also won't have to worry about any back fat or underarm bulge sticking out.
The Comfortisse Bra uses a seamless italian loom construction with a 4-way stretch that delivers optimal support and fit. You'll have smooth lines from every angle.
It look great with practically any type of clothing whether it is business or casual. Plus it is also stylish enough to be worn under low cut tops and blouses for extra coverage.
Comfortisse Bras are machine washable for easy cleaning. They come in a variety of colors which includes white, black, nude, pink, turquoise and light purple.
Get the Flash Player to see this player.
A single set of three Comfortisse Bras in white, black, and nude normally sells for 2 payment of $29.95 plus shipping and handling. But currently there's a buy 1 get 2 offer available.
You'll receive a second set of Comfortisse Bras in white, black, and nude plus a third colored set of Comfortisee Bras in pink, turquoise, and light purple for free. You just have to pay for the additional shipping and handling of each free set.