Cami Secret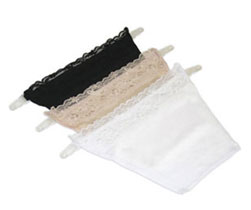 Cami Secret is the new fashion accessory that can instantly give you look of a camisole but without any of the bulking.
It looks just like a camisole but is actually a quick and easy clip on that is designed to attach to your bra straps.
The clips allows you to slide the Cami Secret up or down to control how much cleavage you want to show.
It is perfect for controlling the neckline of low cut tops, sweaters, dresses and much more. You can expand your wardrobe, get that layered look and add a touch of color instantly.
Each Cami Secret is made with a breathable, lightweight material and has a pretty lace border. It is one size fits all.
Get the Flash Player to see this player.
You can get the Cami Secret with a lace trim or without. For just $10 plus shipping and handling you get a set of 3 Cami Secret in black, beige and white.
But there's more because with this double offer you'll also receive an additional 3 Cami Secrets in brown, navy, and ivory for free. You just have to pay for the extra shipping cost.