Max Grip Dash Tray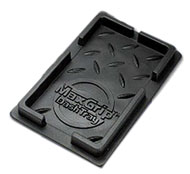 Is your car a mess? Have trouble finding your glasses or reaching for your cell phone?
Then you need the Max Grip Dash Tray. It will help keep everything you need right at your finger tips.
The Max Grip Dash Tray is the amazing dashboard organizer with a unique thermo plastic design.
The Max Grip material will conform to any surface and won't slip at all even under the most extreme conditions.
It is perfect for phones, PDAs, GPS systems, glasses, MP3 Players, garage door openers, and much more.
The Max Grip Dash Tray comes with raised guardrails to keep your item in place and slotted sides for routing cables.
Get the Flash Player to see this player.
The Max Grip Dash Tray costs only $10 plus shipping and handling. But right now with this special buy 1 get 1 offer you'll receive an additional unit free. Just pay the extra shipping cost.
If you need more storage space you can upgrade to the double compartment Max Grip Dash Tray for just $5 more or the triple compartment unit for just $10 more.
In addition, with each order you'll also receive a free Self Powered Flashlight.  Simply turn the crank for light instantly.
Update: This offer has expired