Windshield Wonder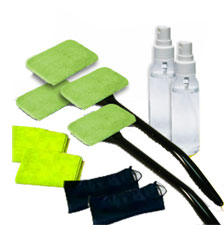 Windshield Wonder is the easy to reach microfiber window cleaner. Now you can clean windshields without straining or stretching. The Windshield Wonder has a long 16″ handle which lets you all the way down to the dash and base of your rear window.
The specially designed micro fiber cloth that comes with Windshield Wonder uses fibers that open up to grab particles of dirt and dust stuck on your windsheild.
The Windshield Wonder also has a unique pivoting head. It is made with a curvature similar to that of a windshield so it  rovides even pressure across the mating surface.
With the Windshield Wonder, there are no chemicals or cleaners. You can just simply clean with water. It is also perfect for moisture and fog removal.
Get the Flash Player to see this player.
Currently there is a special buy 1 get 1 free offer available. For just $10 plus the cost of shipping, you'll get 2 Windshield Wonders, 2 Microfiber Bonnets, 2 Spray Bottles, 2 Shammy Clothes, and 2 Carrying Cases.