Fix It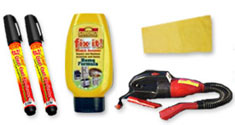 With Fix It from Simoniz, repairing scratches on your car is as easy as 1 2 3. The scratch has met its match with this fast action scratch removing kit.
It is the fastest scratch remover that can safely remove scratches, dings and nicks from your car.
Fix It works quickly and can blend in with cars of any color. When applied, scracthes disappear like magic.
Using Fix It is so easy. Just press the easy on applicator, apply and let dry. That's all there is to it.
Repairing scratches at your auto shop can cost hundreds, with Fix It you can do it yourself at home for under $20.
Get the Flash Player to see this player.
The Fix It kit includes 2 Fix It Pro Pens, Fix It Home, and a Microfiber Cloth for just $19.95 plus the cost of shipping and handling. Order now and you'll also receive a free Turbo Vac.