Total View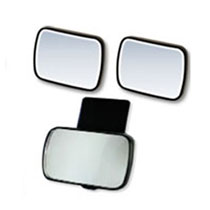 Total View is the adjustable blind spot mirrors that helps increase your field of vision. They will help you drive safer and more confidently.
Regular factory mirrors have a limited angle with blind spots. But by adding Total View to your car you can eliminate those blind spots and see everything.
They will fit on the side mirrors of any make and model. You just peel, stick and press. The durable 3M adhesive used is made to last.
Total View mirrors have a concave design that provides maximum viewing coverage and will show you areas that your vehicles' factory mirrors don't.  Plus they are fully adjustable and can accommodate any driver.
Having Total View while driving is like having an extra pair of eyes. It makes changing lanes a breeze and makes parallel parking into tight spots much simpler.
Get the Flash Player to see this player.
A set of Total View comes with 2 Total View Mirrors and 1 Rear View Mirror. It is only $10 plus the cost of shipping and handling.
Plus with your order you can also receive a free pair of Total View HD Sunglasses if you pay the additional shipping. These glasses cut out the glare so you can see better when driving.