Knight Hawk Pen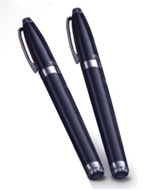 The Knight Hawk Pen is the amazing 3-in-1 pen. It is a fine writing insturment, magnifying glass, and super bright LED flashlight all in one.
You simply turn the pen around to use the built in magnifier that magnifies up to three times.
Use it to enlarge the tiny words on prescription bottles, newspapers, instruction manuals and much more.
Plus the Knight Hawk has a soft touch grip and precision ball point that allows it to efforstlessly glide across any writing surface.
The built in flash light allows you read at night without distrubing anyone. Keep it in your pocket or purse to conveniently have a flashlight anytime.
Get the Flash Player to see this player.
The Knight Hawk Pen is perfect for the office, home, restaurants, travel, business meetings, crossword puzzles, and much more.
Right now with this special buy 1 get 1 free offer, when you order one Knight Hawk Pen for $19.99 plus shipping and handling, you'll get a second one free. Just pay the additional shipping cost.