Pest Free Property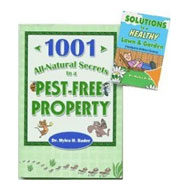 With "1001 All-Natural Secrets to a Pest Free Property" from Dr. Miles Balder, you will learn how to eliminate almost every kind of insect and critter you can think of.
Pest Free Property is the number 1 selling book in the world when it comes to natural pest control.
The methods in the book only using natural substances. There are no dangerous chemicals that damage the environment involved.
You'll find over thousands of useful methods of getting rid of unwanted insects from your garden and pests from your property.
Get the Flash Player to see this player.
When you order Pest Free Property for $19.95 plus shipping and handling, you'll also receive a free copy of "Solutions to a Healthy Lawn and Garden".
But it gets better with this special buy 1 get 1 free offer. Right now you can get 2 copies of Pest Free Property and Solutions to a Healthy Lawn and Garden for just $19.95 plus the cost of shipping.