Skinny Switch Secret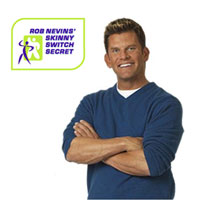 Burn fat fast while still eating the foods you love with Rob Nevins' Skinny Switch Secret. You can lose 1 size in just 1 week.
With Skinny Switch Secret there are no dieting, no pills, and no prepackaged meals. You will never feel feel hungry or deprived.
Rob's system uses a unique three-day program.  On days one and two you get to eat the food you enjoy while your body's fat is used as fuel and burned aggressively.
Day three is a "load up" day that keeps your body from adjusting. Every time you repeat this three-day pattern you jumpstart your body's metabolism.
Be continually repeating this process your body's fat-burning ability is maximized for dramatic results.
With Skinny Switch Secret you get customized meals that are specifically designed around your age, gender, current size and the foods you've chosen.
This makes it much more effective that other diets since there are no one size fits all solutions when it comes to dieting. Even if you weigh the same as someone else, you may need to eat differently in order to reach your goal.
Get the Flash Player to see this player.
Rigt now with this special offer when you pay for a 6 month enrollment into Skinny Switch Secret you'll receive 6 months for free. It is is only $5.95 a week and they'll even waive the enrollment fee of $29.95.
You'll save over 54% with this special offer for Rob Nevins' Skinny Switch Secret. Plus it comes with a 30-day money back guarantee.
Update: This offer has expired