Citrexa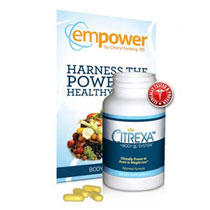 Citrexa by Body System is the new scientific breakthrough weight loss solution that is guaranteed to help you lose weight or else refund your money back.
It is a diet pill which contains a natural blend of fatty acids that have been clinically proven to help in reducing fat and weight loss.
The pill works by helping modulate Leptin and Adopenectin hormone levels. These two hormones affects the body's appetite and metabolism which impacts how much you eat and the body's ability to burn fat.
Citrexa contains no stimulants, no diuretics, or any other harmful additives. You simply have to take 2 caplets 30 minutes before a meal, twice daily.
With one to two weeks you should start noticing a difference as your metabolism is being reprogrammed and reduced cravings for food. In a controlled clinical test, the participants were able to lose an average of 20 pounds lost in just 8 weeks by taking Citrexa.
The safe and proven formula in Citrexa works through these 4 easy steps:
Step 1 – Stop Food Cravings Between Meals
Step 2 – Increase Feelings of Fullness
Step 3 – Burn Fat Intake as Energy
Step 4 – Reduce Joint and Tissue Inflammation
Get the Flash Player to see this player.
A single bottle of Citrexa sells for around $60. Right now you can take advantage of a trial offer and try a bottle of Citrexa risk-free for 21 days by paying $19.95 plus the cost of shipping. If you decide to keep Citrexa after the 21 day period, it is an additional $40.
Plus each order also comes with a free copy of the Empower Diet Plan, written by Cheryl Forberg, from the NBC's "The Biggest Loser. In addition, you well also get access to the Body System member website with weekly updates.
Update: This offer has expired