GeMagic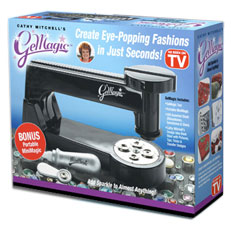 With the GeMagic you can get the high-end designer look without the designer price.
Cathy Mitchell's GeMagic is the fun new tool that lets you place rhinestones and studs wherever you want.
GeMagic is simple and easy to use. You just place the specially designed, one-piece stud into the GeMagic gem setter. Next you position the material and press.
It's that easy. If you can use a stapler then you can use GeMagic to add crystals, rhinestones and studs to all types of clothing.
Transform the clothes you have in your closet from boring to brilliant and from tired to terrific.
GeMagic comes with the portable MiniMagic Tool. Use it to place rhinestones and studs on hard to reach areas, on shoes and more.
Each GeMagic Kit includes:
GeMagic Tool
Mini Magic Tool
500 assorted studs in silver, gold, rhinestones, gemstones, and stars
20 transfer designs
Cathy Mitchell's design ideas booklet
Get the Flash Player to see this player.
Right now with this buy 1 get 1 free offer you can get a 2 GeMagic Kits for only 2 easy payments of $19.99 plus the cost of shipping and handling.