Pajama Jeans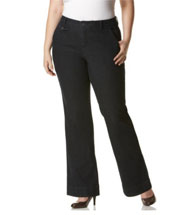 With the Pajama Jeans you get the comfort and feel of PJs but the look and style of denim. It delivers the best of both worlds.
They are so amazingly comfortable but at the same time provide you the sexy and stylish looks of jeans.
The Pajama Jeans is becoming the hot new fashion sensation that fits the figure of every women perfectly.
They have the look of designer boot cut jeans, brass rivets, and European style high contrast stitching. However Pajama Jeans are made with DormiSoft Fabric.
Dormsoft is a proprietary blend of cotton and spandex that is extremely soft and comfortable. Plus the Pajama Jeans are easy to put on and there are no zippers or buttons.
They are great for pretty much any occasion, whether you are shopping, , going out for a quick jog, exercising or even traveling.
Get the Flash Player to see this player.
Pajama Jeans are available in 8 different sizes, from extra small to 3 X Large. Each pair costs $39.95 plus the cost of shipping and handling.
But there's more because each order also comes with a free bonus Grey Crewneck Tee so you can complete your look