Bedazzler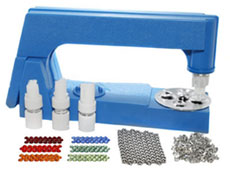 The orginal Bedazzler is the amazing rhinestone and stud setter. It is easy, fun and fabulous to use.
Even if you've never threaded a needle, you'll be BeDazzling in minutes with the Bedazzler. Simply snap, push and pop.
It is perfect for small detailed projects. Bedazzle your jeans, shoes, belt, hair accessories, purses, shirt, scrapbooks and more.
The possibilities are simply endless with the Bedazzler. You also no longer have to overpay for overpriced clothing with studs or rhinestone.
The Bedazzler comes with all the rhinestones, studs and stars you'll need. It comes with 150 Studs, 50 Clear Rhinestones, 50 Assorted Rhinestones, 15 Bedazzler patterns and a Design / Idea Book.
Get the Flash Player to see this player.
When you order the Bedazzler for just only $19.99 plus shipping and handling, you also receive a free MiniBedazzler. It makes Bedazzling on tiny and areas a cinch.