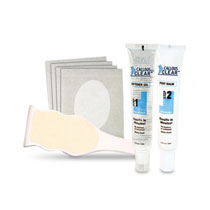 If you have calluses and dried out heels then Callous Clear can help. It is a spa treatment that you can use at home to soften up and remove calluses.
Callous Clear is fast and simple to use. With one or two treatments you can  get rid of callouses and make your feet feel soft and smooth again.
The secret behind Callous Clear is the special softening gel which can penetrate into hard callouses to soften up and loosen them. Afterwards you can gently file them off to reveal baby soft skin.
Read more about this product >>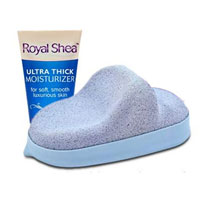 The Royal Pedi is a safe and easy solution for removing dead skin and prevent calluses from building up on your feet. It is an anti-fungal and hands-free exfoliating stone.
You can use it to get the smooth and sexy feet that you've always wanted. There's no more slipping, sliding, bending over and no mess involved.
All you have to do is just peel the restickable sleeve on the bottom of the sleeve and stick the Royal Pedi on any shower surface. Then you can exfoliate away dead skin and calluses in just seconds.
Read more about this product >>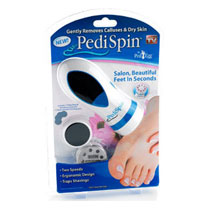 The Pedi Spin is a new callus remover from the same makers that brought you the PedEgg. It features an automatic rotating buffing head that removes rough dry patches, calluses and dead skin quickly.
You can get rid of painful and unsightly calluses easily in just minutes. The Pedi Spin is an ultimate foot smoothing miracle that gives you soft and smooth foot anytime.
It is battery powered (4 AA batteries) and has stainless micro files that will quickly remove calluses and dry skin. Your feet will look and feel great after using the Pedi Spin.
Read more about this product >>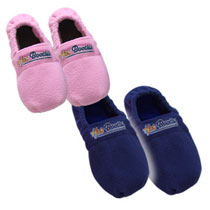 The Hot Booties are new microwavable slippers that gives you a long-lasting heat treatment for your feet. It is a new revolution in pure comfort and foot therapy.
Hot Booties are much more than just an ordinary pair of slippers. They are perfect during cold winter months and for cold, achy, stressed and tired feet.
Plus unlike standard slippers, the Hot Booties will actually improve circulation by naturally massaging your feet while you walk and helps improve blood circulation.
Read more about this product >>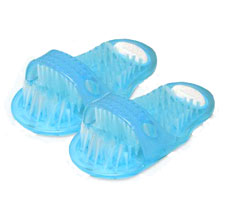 Clean and massage your feet for heel to toe with Easy Feet. You no longer have to bend over and stretch in order to clean your feet.
The Easy Feet features over 1,000 bristles that clean your feet from top to bottom. At the same it massages your feet, exfoilates it, and eliminates dirt that may be trapped.
Plus there is even a pumice stone at the end in order to smooth out rough, cracked heels and makes them softer.
Read more about this product >>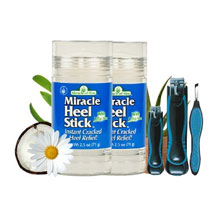 The Miracle Heel Stick is the miracle solution for dry, cracked skin on the heels, elbows and other trouble areas.
The soothing and moisturizing formula is specially made to repair and restore the skin so if is softer, smoother and more supple.
Miracle Heel Stick is made with all natural ingredients, including organic aloe vera, nutrients and anti-bacterial oils. It is gentle and effective so you can say goodbye to harsh creams and lotions.