Pro Caulk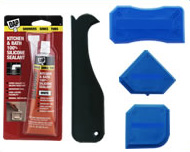 Pro Caulk is the solution for perfect corners, seamless joints, and no wasted caulk. Don't pay for a pro when you can easily do it yourself.
It is the only hassle-free way to apply silicone with no mess and for a perfect finish every time.
Pro Caulk is designed to apply and seal silicone, acrylic, caulk, and other compounds,  is quick and easy to use, saving you time, money, and effort.
The ProCaulk kit includes a 4 edged tool for large sealing tasks, a 4 edge tool for small sealing tasks and grouting, a mini-tool with 4 sealing edges for hard to reach places, a silicone remover tool, and a 82.8 ml tube of silicone.
Get the Flash Player to see this player.
Order the Pro Caulk kit today for $19.95 plus shipping and handling. It comes with a 5 year warranty.