Pink PedEgg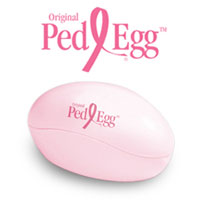 Now you can get the world's best selling pedicure tool and help the fight against breast cancer with the new limited edition Pink PedEgg.
Over $50,000 of PedEgg proceeds is being donated to the Breast Cancer Research Foundation in order to help find a cure for breast cancer.
So support a good cause and get silky smooth feet at the same time.
Like the original PedEgg, it is the Pink PedEgg is the perfect pedicure tool with its over 100 precision micro-files and ergonomic design.
It is gentle and easy to to use. PedEgg removes calluses and dead skin. The shavings are stored in a container for easy disposal.
Get the Flash Player to see this player.
Order the Pink PedEgg for just $10 plus shipping and handling. But that's not all.
PedEgg will show their appreciation for your donation and give you a second bonus Pink PedEgg and a tube of Soft Silky Soles foot therapy cream for free. Just pay additional shipping and handling.
Update: This offer has expired