Optic 1050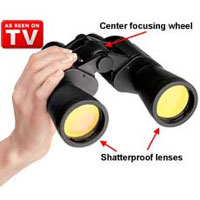 Optic 1050 are the amazing high powered binoculars with 1000% magnification lens that allows you to see up to 35 miles away.
They are perfect for sight seeing, bird watching, hunting, sporting events, and much more.
You'll be amazed at what you've been missing at sporting events, on vacation or right in your own backyard.
Optic 1050 has a center focusing wheel and soft rubber eye cups that easily adjust to any eyes.
It has a durable shock-resistant casing and the lenses are also shatterproof. It comes with a neck strap, carry case and a lens cap.
Get the Flash Player to see this player.
Right now when you order a pair of Optic 1050 binoculars for $29.98, you'll also receive a free bonus Pocket Spyscope. It is less than 6 inches long and has a 24x magnification. Just pay additional shipping.