Tushee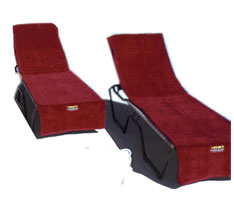 The Tushee Comforter is the towel for your tush that is made of high quality and soft velour material.
It a much better  alternative than just placing any regular towel on any chair, bench, or pool lounger.
The Tushee protects against dirt, sweat, and heat, while never falling off or blowing away.
It forms a secure pocket over any seat and can be adjusted to any width or length for maximum comfortable.
Tushee is great for stadium seats, fishing boats, outdoor chairs, airplane seats, at the movies, at the pool, and much more.
Get the Flash Player to see this player.
Tushee is available in three great colors, they are Navy Blue, Burgandy, and Tan. You can order Tushee for just $19.95 plus the cost of shipping and handling.
As a special bonus you'll also receive a Tushee Tiny free with your order. Just pay the additional shipping.