The Floppy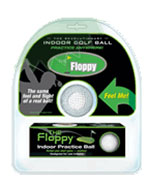 Now you can bring your outdoors game indoors with the Floppy, the amazing indoor golf ball.
The Floppy has the same feel and feedback of a golf ball but is soft enough to bounce off a window or a wall.
With the Floppy you can practice your  short game at home or the office when getting to the course is not always an option.
It designed specially for practicing the short game and does wonders with wedges.
Practicing with The Floppy just a few shots a day will help  build your touch and feel, making you a better golfer.
Get the Flash Player to see this player.
You can order a 4-pack of The Floppy for just $19.95. It even comes with free shipping.