Ideal Umbrella Stand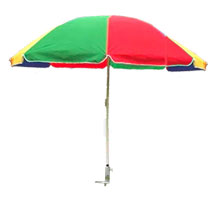 Now there is a faster and easier way to setup your umbrella and relax in the shade with the Ideal Umbrella Stand.
You no longer to shove, hammer, twist and stab in order to set your umbrella up right. Plus you don't have to worry about your umbrella flying away.
The Ideal Umbrella Stand is the only stand that sinks, is guranteed to hold your umbrella in place and makes sure it stays that way.
Anyone can use the Ideal Umbrella because it is designed to be easy to use and set up. You first just insert the bottom pole of your umbrella into the Ideal Umbrella Stand.
Next, tighten the wind restraint knob and from a standing position, just lower it tothe ground and push down on the foot plate with your foot.
The Ideal Umbrella Stand is perfect for the beach, the pool, pinics, lakes, rivers, sporting events and a whole lot more. You can have your umbrella quickly setup anywhere you want.
Get the Flash Player to see this player.
The Ideal Umbrella Stand comes with a free Heavy Duty Carrying Case and a free Pole Protector. It is only $19.99 plus the cost of shipping and handling.
But there's more because you'll also receive a free 6 foot Rainbow Beach Umbrella with your order. You just have to pay the additional shipping cost.
Update: This offer has expired