Fun Foil Art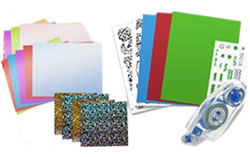 With Fun Foil Art kids can make their very own 3D foil stickers like magic. It is simple and fun.
First you just pick your favorite sticker and peel it off. Then just press on the fun foil and the color stays. It just like magic.
The possibilities are endless with Fun Foil Art. Kids can create limitless designs and unleash their creativity.
Ordinary stickers are just flat and boring but with the Fun Foil Art stickers, they are 3D and exciting for kids.
With Fun Foil Art there's no gluing, no waiting and no mess. You can also use Fun Foil Art to decorate almost anything.
Get the Flash Player to see this player.
With this special buy 1 get 1 free offer you'll receive a total of 110 3D Stickers, 2 Adhesive Sheets, 6 Mini-Poster Sheets, 36 Pieces of Colored Foil, 2 Stencils and 2 Instruction sheets.
That's a total of 158 pieces for just $19.99 plus shipping and handling costs.