Shaun T's Fit Kids Club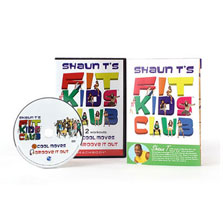 Kids can get their groove on and stay healthy with Shaun T's Fit Kids Club. It features 2 workouts for kids ages 7 and over.
The club workouts are all about using awesome dance moves that can help kids sweat, build strength, and have fun at the same time.
The dances will help keep kids healthy and energized. It won't matter what your size or shape is, or even if you don't know how to dance.
In Kids Fit Club, Shaun T teachs you cool, new steps with rad music. You'll be rockin' out in no time! The workouts are so much fun, you won't even notice that you are exercising.
The first workout DVD is Groove It Out, which features cool dance steps like the Hustle, We're Cool, Body Jam, Wind & Toss, Bounce & Swipe, and Basketball.
The second workout DVD is Cool Moves, where kids will learn how to get funky while getting healthy. In the DVD, Shaun T shows you new hip, hot steps like The Hey!, Snake It, Pound & Hop, Dust & Wave, and Smooth Groove. You'll learn some cool moves and get into shape at the same time.
Get the Flash Player to see this player.
You can order Shaun T's Fit Kids Club workout program for just $19.99 plus shipping and handling. Plus with your order, you'll receive 3 free bonus gifts.
They include the Healthy kid-friendly snack ideas guide, a learn to read nutrition labels guide, and Shaun T's Fit Kids Club wall poster to help track of workouts.