Bendaroos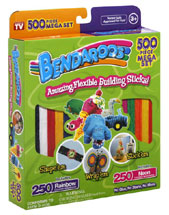 Bendaroos are the amazing flexible building sticks. Kids will be having fun for hours and unleashing their creativity at the same time.
Forget about messy crayons, markers or pens.  With Bendaroos you just bend any color and watch the fun.
You can use Bendaroos to draw, build, transform and decorate. They are safe and mess-free.
Bendaroos holds their shape and you can unbend them to use over and over again.
Made with magical max over a super strong string, no matter how you twist or bend they won't break.
Get the Flash Player to see this player.
This Bendaroo double offer includes 250 Rainbow Bendaroos, 25o Neon Bendaroos and a Bendaroos Fun Guide.
Order Bendaroos now for just $19.99 plus shipping and handling.