Dotza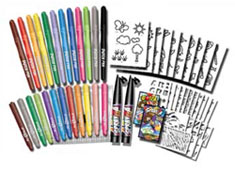 Dotza is the easy and cool way to create amazing dimensional effects.
There are lots of different ways to use a Dotza Marker Pen. You can create dimensional dots, Dotza "O's" and Dotza Beans.
These Dotza Markers are 2-in-1 and can be used as a regular marker as well.
Plus along with the Dotza markers, you'll also receive Sprayza, the amazing airbrush coloring system kids love.
The complete Dotza Color Kit includes:
12 Dotza Pens
60 Creation Images
12 Sprayza Pens
2 Sprayza Tools
20 Stencils
2 Instruction Books
Get the Flash Player to see this player.
Right now you can get Dotza and Sprayza for just $19.95 plus the cost of shipping and handling. Kids will have hours of creative fun.